The most advanced workshop of its kind in the region which spreads over 250,000 Sq. ft. making it one of the largest in the area.
We repair & service of all kinds of heavy equipments with Mechanical, Engine, Hydraulics and Electrical defects with the help of our experienced and highly trained staff.
We believe in guaranteed quality jobs & prompt services at competitive prices to all customers.
Complete Air Conditioned Engine Repair Room Factory Trained & Experienced Technicians In House Fuel Injection Services, Machine Shop & Dynotesting On Board Computerized diagnosis of CAT & Cummins Engines Dust Free Environment
Others: Mercedes, Komatsu, Iveco, Deutz.Detroit Diesel: 71, 92 & 149 SeriesPerkins: 3.152, 4.236, 1004, 1006, 1103,1104, 1300, 2300, 2500, 2006, 3000 Series Cummins: 4BT, 6BT, 6CT, NT, LT, VT, KT QSTCaterpillar: 3304,3306, 3116, 3406, 3408, 3412, 398, 399
Engine Repair Process
Inspection: The engine is carefully & thoroughly inspected by a Qualified Technician for any damaged and missing components.

Disassembling: The Engine is completely Stripped, each component is removed , checked and necessary replacements/repairs are made.

Cleaning: All the parts are thoroughly cleaned to remove dirt, oil, contaminants & foreign material.

Repairs & Service: The Crankshaft, Camshaft, Cylinder Head, Engine Block etc are checked and machined if necessary. Damaged Parts are replaced.

Assembling: A Qualified Technician does the final assembly after checking all the Parts

Testing: The Complete Engine is Dynamometer Tested for its Performance.
The Biggest & Most Advanced Engine Test Center in the entire region. It is equipped with Modern Engine Testing Equipments, Computerized Reports & Graphs are provided for various parameters such as Speed, Power, Torque etcTR Engine Testing Centre is One of The Biggest & Most Advanced Engine Test Centre in the entire region with qualified & Experienced Service Personnel.
Dynamometer Testing Facility for Diesel Engines Dubai – 300 HP To 1500 HP Dyno Abu Dhabi – 150 HP To1500 HP Dyno.
Our Well equipped Workshop with all Modern Facilities for the Repairs & Servicing of Equipment and high Standards of Workmanship & Reliability have achieved us recognition for Quality Repairs & Servicing with Excellence & Commitment.
We Repair & refurbishment of all types of Earth Moving Equipments like:
Wheel Loaders
Graders
Back Hoe Excavators
Tractors
Cranes etc
Telehandlers
Skid Loaders
Cable Pulling Winches
Forklifts
Container Handling Equipments
Generators
Air Compressors
Welding Machines
Wheel Loader
Forklifts
Compressor Generator
Bagela
Cranes
We specialize in complete Rewinding of Stator, Rotor & Excitor up to 2500KW for all types of AC/DC, HT/LT Alternators & motors with complete Testing Facilities. Overhauling, Repairing & refurbishment of all types HT motors up to 5MW. We are also the authorized Agents for Newage Stamford Alternators.
Our activities include:
Complete rewinding of electrical motor as per IEEE-STD-1068-2009.
Overhauling, Repairing & refurbishment of all types HT/LT motors & Alternators as per EASA standard AR 100-2010.
We use only the most sophisticated of electrical motor maintenance assessment tools & software and focus on deploying it to preventive maintenance efforts so that you can avoid rushed emergency repairs or motor failure in favour of scheduled, hassle-free prevention.
We can repair any motor back to its original, making our focus on repair over replacement, something that can benefit your organization.
We prioritize consistency and efficiency in our repairs & efficiency so that you can continue to work on your machines as long as possible.
We also offer AC/DC motor repair for all motors including pump, Brake, slip ring & traction motor.
We also offer for Laser alignment & Field balancing of machines.
On site servicing work for HT/LT motors & generator.
Mechanical Services
Shaft fabrication and replacement /Shaft metalizing
End Shield cover bearing housing repairing /manufacturing
Stator & Rotor core repair /re-staggering/re-insulation/replacement
Commutator & Slip-ring repair/replacement
Design, fabrication and replacement of all Spares like End shield Cover, Bearing Housing, Centrifugal Disk, Labyrinth ring ,Grease covers, Cooling fans, Fan covers ,Coolers/Heat exchangers ,Oil seals, bearings, brush holders, HV brushes, Terminal Studs etc.
Re-babbiting of sleeve bearings.
The HT Rewinding is carried out in compliance with the set industry standards and are backed up by excellent In-house facilities & well trained service personnel's. Customer Reliability & On time job completion job with accurate results have enabled us to create a secure niche even in today's rapidly changing dynamics. Our operations diversify in U.A.E., Oman, Bahrain, Qatar, Kuwait & Saudi Arabia.
One Stop Station for Dynamic Balancing of various Brands of Rotating equipments like Rotors, IG Fans, Impellers, Fly Wheels, Crankshafts, Propeller Shafts etc as per IS1940/1 Standards.
Latest IRD Mechanalysis (UK) Computerized Balancing
Machine and computerized reporting
Top Quality Prompt Service with Competitive Prices
Accurate and Convenient On Site Balancing of Rotating Equipment.
Balancing with Balance Quality Grades G40/G6.3/G2.5 etc.
Laser alignment of Coupling (On Site).
Computerized Balancing are provided.
In-house Machine Services.
Precision & Quality are the Cornerstones of our business and are evident in our State of Art Machine Shop which is well equipped with a complete range of machineries and qualified staff.
Our Machine Shop offers Prompt Response to clients, Competitive Prices and specializes in various machining of Blocks, Crankshafts, Cylinder Heads, Camshafts and Conrods.
Our services include:
Turning
Shaping
Drilling disc/drum cutting
Surfacing
Boring etc
One stop- shop providing the highest quality services for the Servicing and Calibration of Marine & Industrial Fuel Pumps. Our technicians are factory trained and highly qualified to render professional repairs as per OEM specifications to fuel injection pumps, injectors and turbochargers with high expertise that always exceed customer expectations.
What we do:
Servicing and calibration of:

Marine and industrial Fuel Injection Pumps.
Multiple Brand Technical Competence for brands like Cummins / Bosch / Stanadyne / Mico / Zexel / Nippondenso /CAV / Delphi etc.
EDC Pumps like P-Type and H-Type for Volvo, Man, Scania & Iveco. M type for Mercedez Benz.
HEUI (Hydraulically Actuated Electronically Controlled Unit Injector) for brands like Caterpillar, Cummins, Perkins, Detroit Diesel.
EUI Injectors for Caterpillar.
In-house Inventory of Spare Parts.
Hi-tech infrastructure with qualified Engineers & Technicians,
Technical Resources Workshop Services Division in collaboration with Parker Hannifin group has unveiled a new Parker Hose Workshop to support our clientele 24 x 7 x 365.
Our facility is manned by a dedicated team of engineers and technicians who have been trained by Parker to address any hose repair needs of our clients, who are spread across industries such as Oil & Gas, Marine, Construction, Industrial, Automotive, etc.
The hose workshop is fully equipped with State of the Art machinery viz. Parker Crimping Machine, Parker Hose Cutting Machine, Uniflex Test Bench and a variety of tools to carry out hose repairs for all kinds of Hydraulic applications such as hose refurbishment, Hydraulic pump repairs, etc.
The facility also supports a large inventory to ensure that time taken for repairs is minimum.

Technical Resources also provides customers with Parker Store Onsite solutions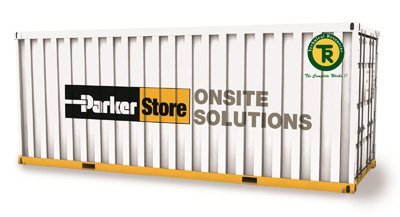 Fully customized mobile workspace at job site, with technology, equipment and inventory needed for remote fabrication of hose and tube assemblies
Significant decrease in equipment and labor downtime
Increased efficiency, productivity & profitability.

Technical Resources exclusively specializes in the integration of Hydraulic Power Unit systems with Parker components to suit customers' unique requirements.
Applications: Our HPU's are utilized to power rotational as well as linear equipment like winches, cylinders, rotational actuators, etc.
Features
Compact Design
All components of Zone II HPU are enclosed within high tensile steel protection frame
Unit has built in cradle for hose storage
Four lifting points for crane handling & forklift pockets for ground handling
Automatic over speed air intake shutdown valve and auto throttle
Specially designed Oil Cooler
Option for Mechanical Starter or Air Starter
Equipped with Spark arrester
Heavy duty PARKER Hydraulic Pump
Closed loop hydraulic system
Built according to internationally recognized standards
Built as per customer specifications
We are fully equipped with modern and sophisticated software and equipments for On-Board Diagnosis for the Shipping and Marine Industries.
We provide the below for Shipping and Marine Industries :
Total workshop support
On Board – Engine Overhauling of all major brands like CAT, Detroit Diesel, Cummins, Perkins etc.
Insitu Balancing of Blowers, Fans and Impellers.
Vibration Analysis for various rotating equipments.
CAT TA2 Test on 3500 series and avert series engines with reports.
Computerized analysis and diagnosis of CAT Engines with ET Software.
Mechanical Dial gauge Alignment of Various brands of Alternators.
FAG Laser Alignment and Computerized Report.
Rigging Jobs: Removal, Refitting, Alignment and Servicing of main A/C, D/C Alternators – All type of AC / DC Motors on Vessels, Tug Boats, Ships & Barges.
We have a large fleet of individually equipped services and vehicles that are available at all time. Our objective is to ensure excellent customer support and highly satisfied with the comprehensive services and competitive prices we offer.
We also present AMC for Equipments, Parts and Machineries like Gensets, Air Compressors, Wheel Loaders, Forklifts etc.
Some of the after sales support we provide:
On-site machine deliveries with careful installation.
Load Bank Testing.
Breakdown Support with less response time
In-house Inventory of Parts:
We accommodate a total warehousing facility of over 100,000 square feet in Jebel Ali, Al Quoz & Abu Dhabi to support large inventory, increased availability & quicker deliveries. We also use parts which are renowned for their Quality, Performance & Reliability.
An Ultimate Form of Recycling…
Remanufacturing is a factory process, which works on systems and the engines are thoroughly cleaned, cautiously inspected, re-conditioned and machined to OEM specifications. Our core competence lies in utmost capability in changing the engine applications to suit customer requirements.
Why Taurus?
High-tech Infrastructure
Large Inventory with immediate availability
Competitive Pricing
Controlled "Taurus Six" process**
Warranty Backup
Reliable
Outstanding customer service and in-house support.
World-wide network
Specialize in Diesel Engines.
Skilled Technicians
In-house Machine shop and Fuel Injection Engineering
Air- Conditioned and Dust proof assembly shop for engines
In House Engine Testing on Computerized Dynamometer
Tauras Applications: Genset, Truck, Dump truck, Wheel Loader, Welding machine, Industrial and Agricultural machines.